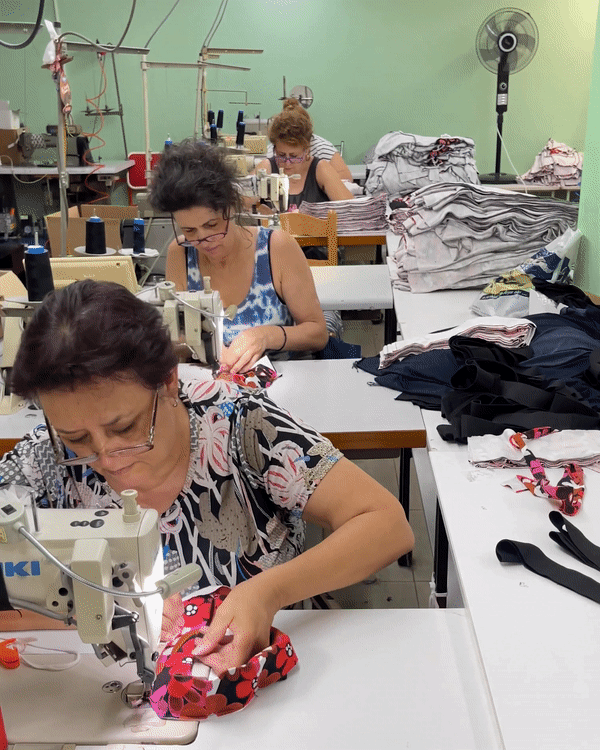 WHAT MAKES STIEGLITZ, STIEGLITZ: BEHIND THE FLARES
PICTURE UP it's time for the flares' close up. At Stieglitz we love to travel to a new land to soak up its culture and vibe. This inspires our creations and so do the people involved in our making process. Recently, we touched base with our factories in Greece to follow the steps in the crafting of our flares.
Let's dive into the steps below!
STEP 1.
EcoVERO viscose yarns and elastane are knitted to form a fabric. The fabric is then taken to the knitting house and dyed. After our fabric is washed and dyed, we have the fun part – applying our gorgeous hand painted patterns to the fabric.
STEP 2.
Once pressed and washed, it's time to begin sewing the signature Stieglitz flare we know and love: a sexy silhouette that hugs the legs and forms a bell-like shape below the knee. But this signature silhouette did not come easy; we trialled, tested and sampled until we reached perfection.
STEP 3.
After this timely procedure has been carried out by our amazing factory team, our flares are ready to be shipped to us in the heart of Amsterdam!
Once our collection launches, the flares are set to flee the nest and into the hands of our fierce, confident and daring community of Stieglitz's family – such as yourself!
We hope you will cherish your Flared Leggings even more so knowing the patience and precision we have in making them for you.