THE BIGGER, THE BETTER

While I absolutely enjoy dressing up and wearing glamorous outfits, I feel most at home in my everyday oversized clothing. I've always been a bit of a tomboy, and you can definitely see that reflected in the Stieglitz collections. Many of the items are generously oversized, allowing you to almost disappear into them. This is not only incredibly comfortable but also gives off an edgy vibe. In this blog, I'll show you how I put together an oversized outfit using three favourite items.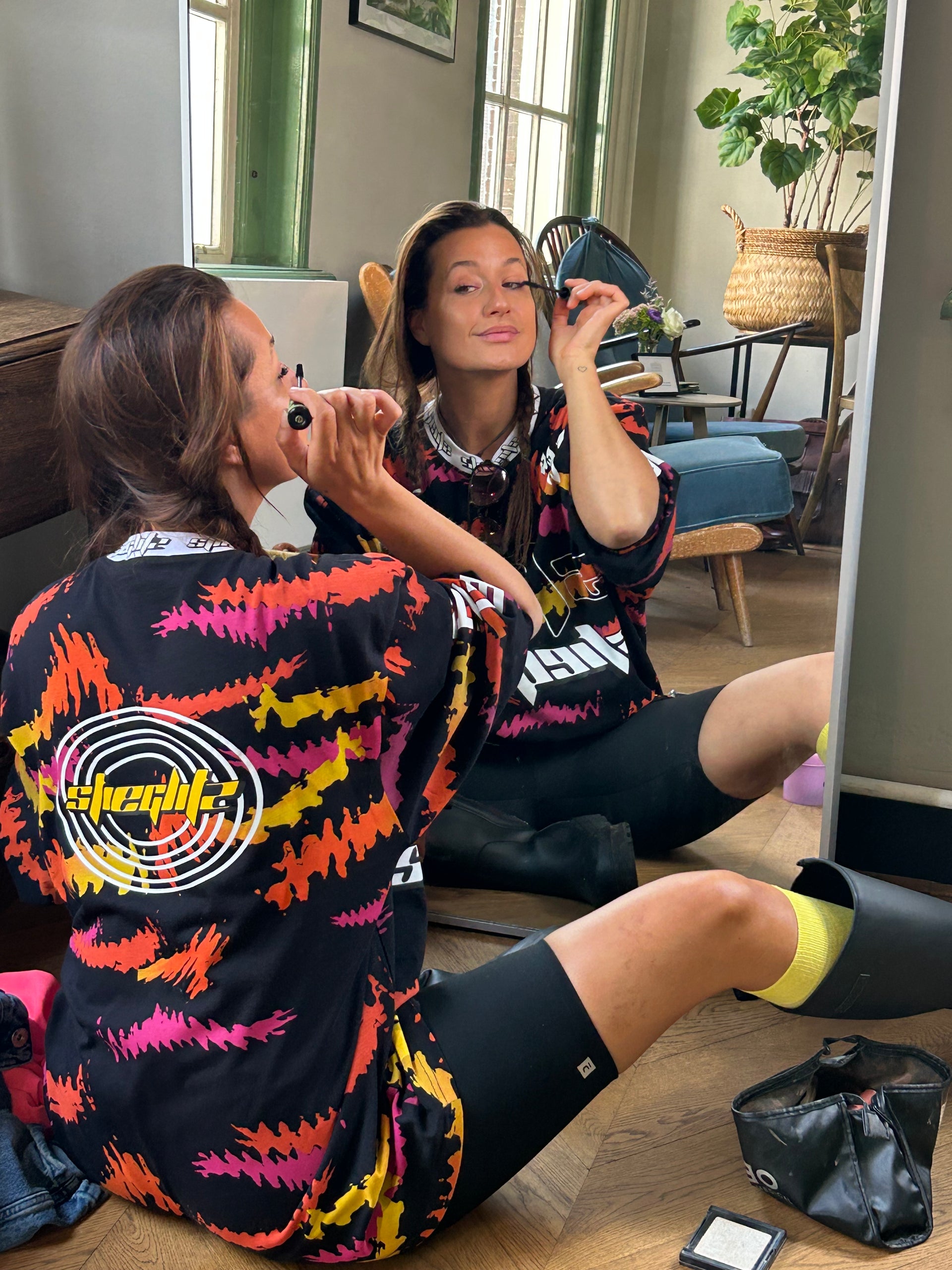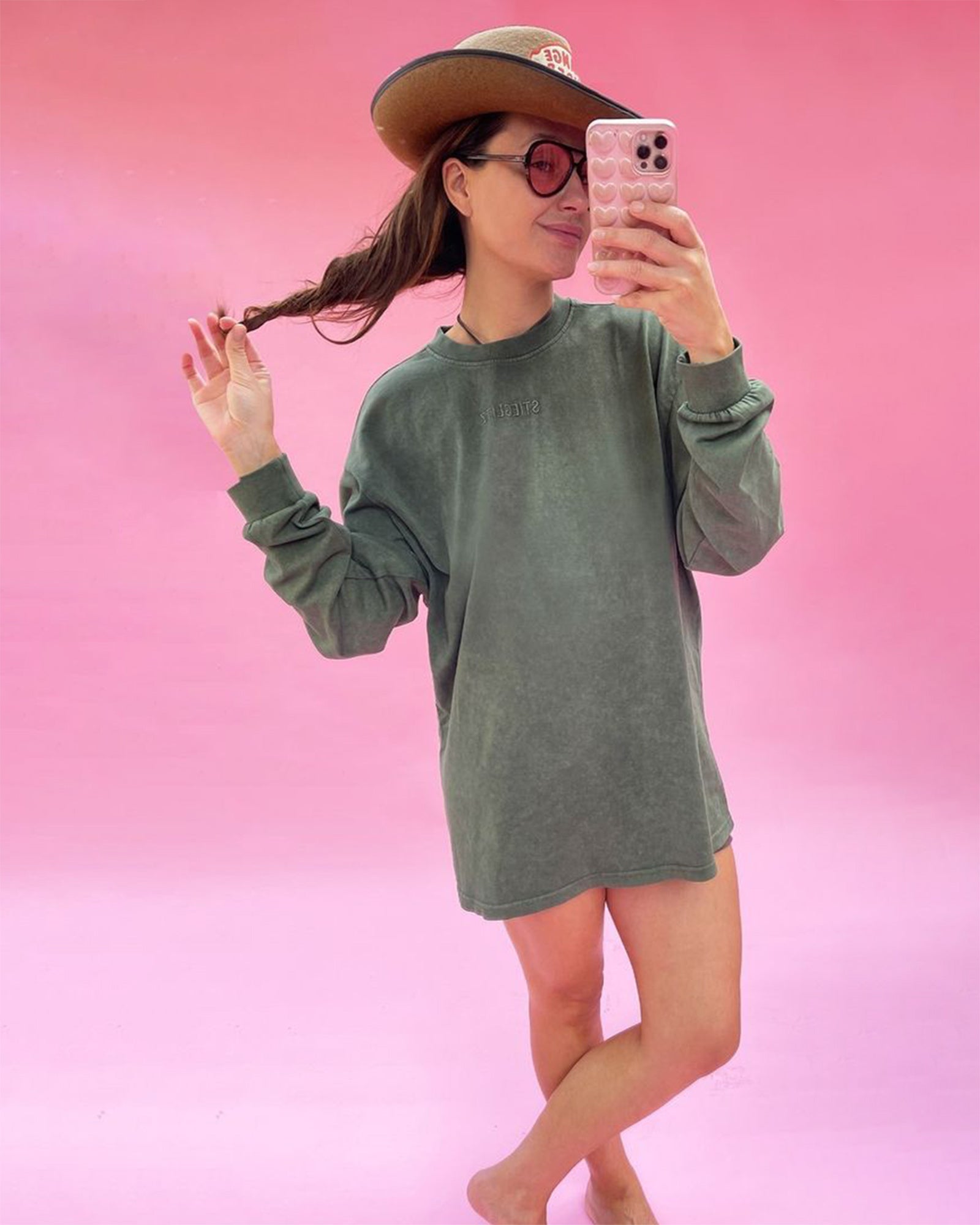 A t-shirt and dress in one
An oversized t-shirt is a must-have item in your wardrobe. It's a key basic that you can combine in countless ways. A great example of such a comfy t-shirt is this pink variant. It's so big that I can wear it as a dress with bike shorts underneath. But it also looks great with a pair of jeans or flares. The shirt extends past your behind, creating a slightly more rugged silhouette. Styling the outfit with plenty of jewellery and a cool cap turns it into a statement look. Another thing I like to do is wear a t-shirt with a long, wide skirt. This transforms your outfit into a sort of big gown. It doesn't sound very sexy, I know. But you can really make it look very feminine.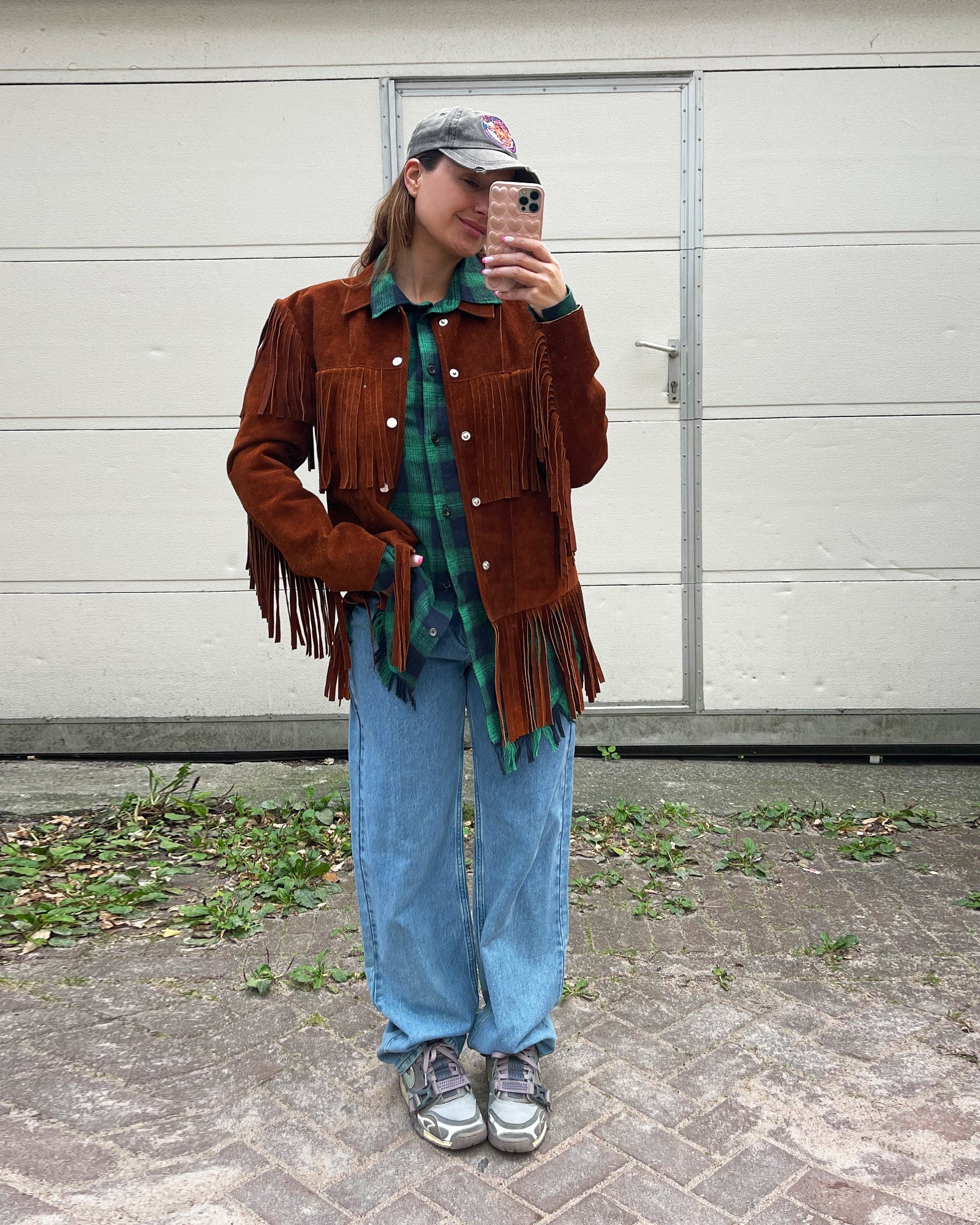 The blouse as the perfect cover-up
Similar to the t-shirt, I enjoy wearing a blouse as a dress. This blouse from our new collection is long enough for that. Super cute with a pair of cowboy boots for a real western look. If I'm in the mood to really go big-big, I wear a pair of oversized jeans with my blouse.

I prefer to wear an oversized blouse as a cover-up over my outfit. For example, when I have on a tight top or dress, then I prefer to wear a big blouse over it. It immediately adds a less 'girly' touch to my outfit.

Comfort is key.
Your favourite jeans should be a few sizes too big
Another thing I love to wear is an extremely baggy pair of pants. I often buy my jeans a few sizes too big to achieve that super wide look. The pants then sit a bit low-waisted, which looks cool but at the same time very sexy. Plus, they're super comfy when you're still digesting your food baby after a big plate of pasta ;). Pair them with a tight top for a more elegant look or keep it entirely oversized with a cosy oversized sweater.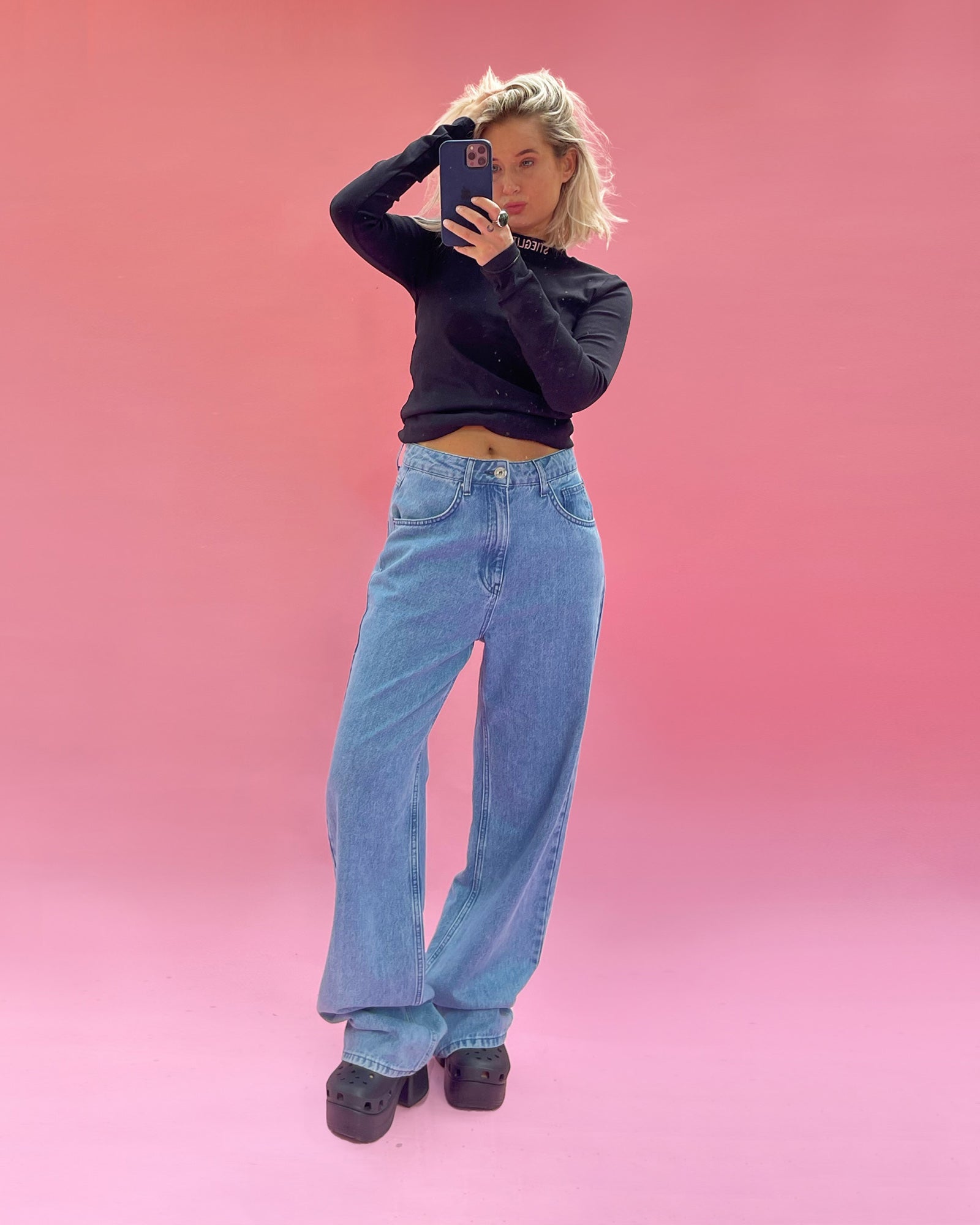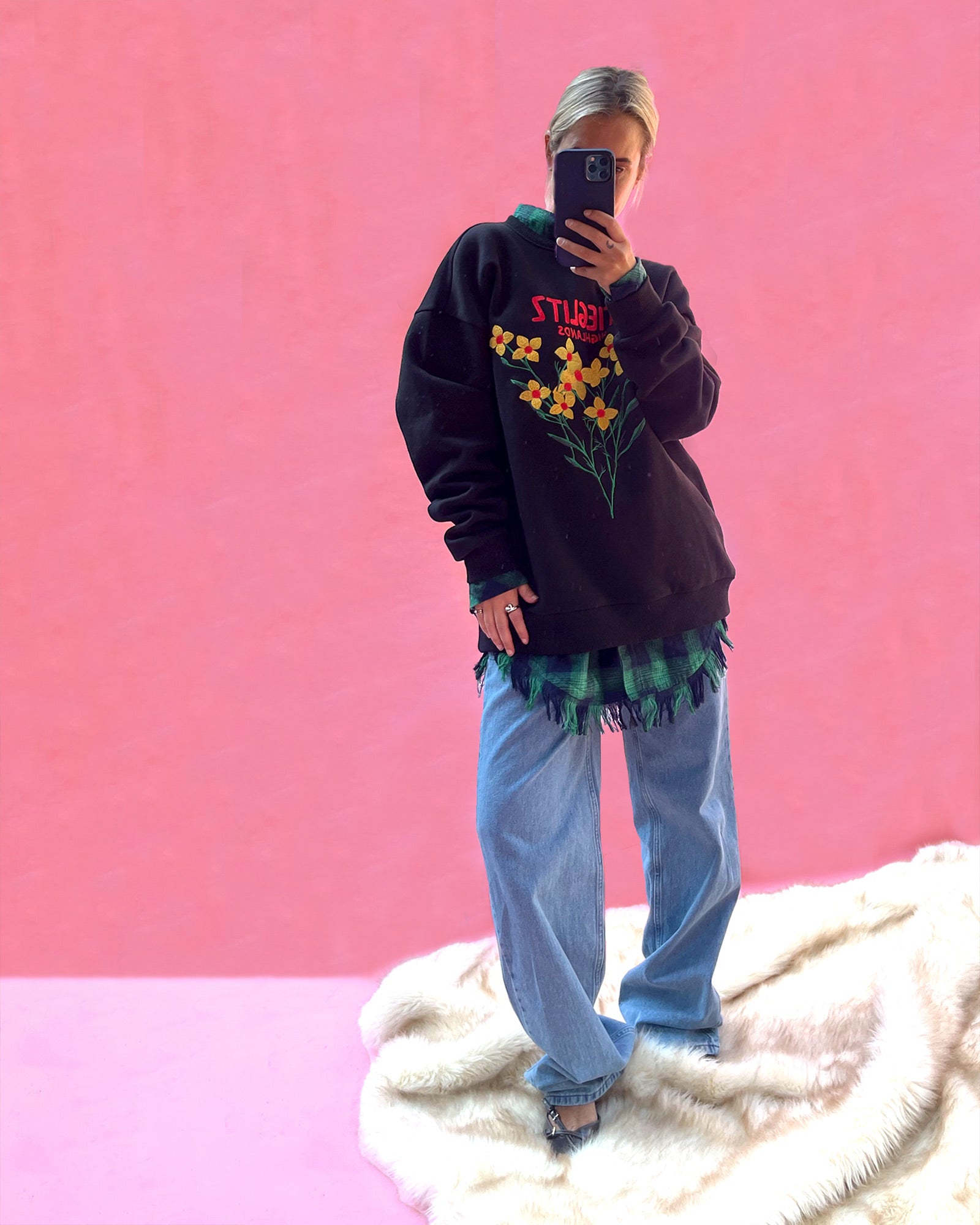 For me, the motto is really "the bigger, the better." At least half of my closet is filled with loose, baggy, and oversized items, and I love it! In the beginning, you might need some time to get used to all these shapeless items, but I promise you that once you start, you won't want to go back. I truly enjoy being able to disappear a bit into my clothes. Because let's be honest, sometimes you just don't feel like showing off your body to everyone. Oversized clothes are the solution for me, and they always add a touch of edginess to your outfits. You can see that in every Stieglitz collection.

Love,
Pien